PRESS RELEASE
---
OUR STORY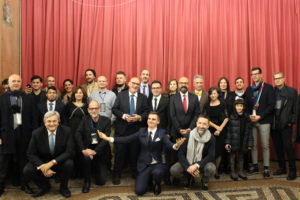 An almost 40-year history, that of the world's oldest sports film festival, the Sport Film Festival.
Sports pages have been written by great film productions from all over the world, suggestive emotions have been transmitted by hundreds of sports champions, who have been awarded the Paladino d'Oro, have enriched the festival's palmares, now they start again with the organizational machine that also for this year it foresees the participation of great productions and great protagonists of sport and sports journalism.
The Organizing Committee of the International Film Festival "SPORTFILMFESTIVAL", directed by Roberto Marco Oddo, selects at each edition works that have as main subject the sport in its various expressions and in all its manifestations.
—
Una storia lunga quasi 40 anni, quella della rassegna cinematografica sportiva più antica del mondo, lo Sport Film Festival.
Pagine di sport sono state scritte da grandi produzioni cinematografiche provenienti da tutto il mondo, suggestive emozioni sono state trasmesse da centinaia di campioni sportivi, che insigniti del Paladino d'Oro, hanno arricchito il palmares del festival, adesso si riparte con la macchina organizzativa che anche per quest'anno prevede la partecipazione di grandi produzioni e di grandi protagonisti dello sport e del giornalismo sportivo.
Il Comitato Organizzatore della Rassegna Cinematografica Internazionale "SPORTFILMFESTIVAL", diretta da Roberto Marco Oddo, seleziona a ogni edizione opere che hanno come argomento principale lo sport nelle sue diverse espressioni e in tutte le sue manifestazioni.
---
CONTACT US