LA RUSSIA CONQUISTA IL FESTIVAL: I SUOI FILM VINCONO 6 PALADINI D'ORO
Nella fantastica cornice del Teatro di Verdura a Palermo, alla presenza del Sindaco Leoluca Orlando e del Presidente della Rassegna Vito Maggio, sono stati consegnati i Paladini d'Oro ai film in concorso e ai personaggi del cinema dello sport e della cultura.
Ecco i vincitori dello Sportfilmfestival: il Miglior Lungometraggio è stato il film The Box del regista EDUARD BORDUKOV, il Miglior Cortometraggio è andato al film italiano OLTRE LA LINEA di Paolo Geremei, Miglior Film Paralimpico ad un altro film russo SPIRIT IN MOTION dei registi Geveyler, Bisheva e Kucher, Miglior Football film è stato LORO DI NAPOLI di Pierfrancesco Li Donni, Miglior Fotografia ad AFRICA & SPORT PER L'ETIOPIA di Roberto Bof e Marco Rampi, Miglior Sceneggiatura ancora un film italiano A QUALUNA PIACE IL CALCIO delle registe D'Orazi e Aliberti, Miglior Montaggio a IL RUGGITO DEI LEONI di Alessandro Renna, e Daniele Ciardi, Miglior Colonna Sonora anche al russo SPIRIT IN MOTION, il Miglior Protagonista è andato al pluri-campione del mondo e coreografo Maxin Kozhevnikov interprete del film KING BALL DANCE, la Miglior Regia è andata a Eduard Bordukov, Miglior Film Straniero assegnato a RINGS OF THE WORLD, la Movie Commission presieduta dal magistrato Mario Conte ha inoltre assegnato il premio della critica "Gregorio Napoli" al film NOI SIAMO ERCOLINI di Giacomo del Buono e i riconoscimenti al film rumeno LIFE IS SPORT LIFE IS LOVE dei registi Cosmoiu e Malciu, allo svizzero THE LIVE OF MECCA di Stefano Etter e QUARTO SAVONA 15 LA STRADA CONTINUA di Gabriele D'Agostino, il film di produzione polacca "AJDE " della regista Zuzanna Szyszak, che racconta in un originalissimo cartone animato la storia di Novak Djokovicè, ha sbancato nel contest lanciato su Facebook con oltre 1.500 like.
Durante il GranGalà presentato da Nadia La Malfa e Roberto Marco Oddo (direttore della Rassegna), sono stati consegnati inoltre, i paladini d'oro alla NAZIONALE ITALIANA DI CALCIO CANTANTI (ha ritirato Sandro Giacobbe c.t. della Nazionale), per l'altro cinema a PIETRO BARTOLO protagonista del film di Gianfranco Rosi FUOCOAMMARE, per la pubblicazione a CENTO VOLTI DI UN MITO di Salvatore Requirez, a VITTORIO VIRZI' ideatore dell'evento ultra decennale SPORT MUSICA E MEDICINA, ai dirigenti sportivi dell'anno ANGELO PIZZUTO e SANTINO LO PRESTI, alla squadra paralimpica dell'anno la POLISPORTIVA ALBA, per la Tv ai 40 anni di CTS. Tra gli ospiti d'onore erano presenti tra gli altri il presidente dell'ARS Giuseppe Lupo, il Presidente del Coni Sicilia Sergio D'Antoni, Pino Mangano Presidente della Libertas Sicilia, il comico Sergio Friscia, Ninni Vaccarella e l'erede di Vincenzo Florio Costanza Afan De Rivera.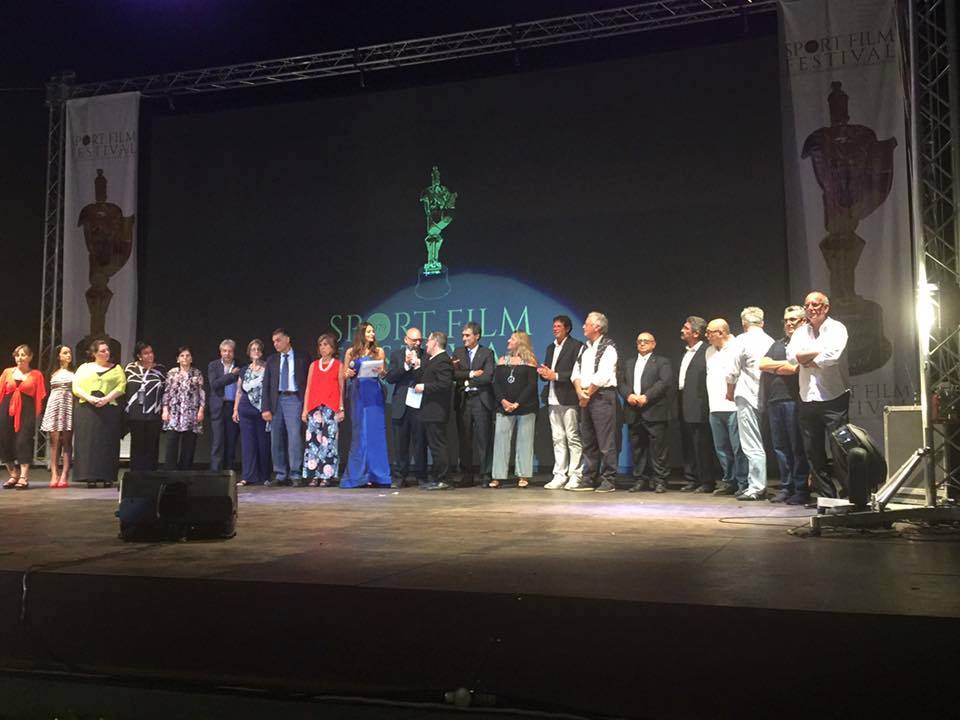 RUSSIA CONQUERS THE FESTIVAL, ITS FILMS WON 6 GOLDEN PALADIN
In the amazing setting of Teatro di Verdura at Palermo, at the presence of the Mayor of Palermo Leoluca Orlando and of the President of the Festival Vito Maggio, Golden Paladins are given to the films of the competition and to the personalities of the world of sport, cinema, culture and performing arts.
Here the winners of the SportFilmFestival: Best Feature Film is the film "THE BOX" directed by Eduard Bordukov, the Best Short Film Paladin has gone to the Italian "OLTRE LA LINEA" directed by Paolo Geremei, Best Paralympic Film to another Russian film "SPIRIT IN MOTION" directed by Geveyler, Bisheva and Kucher, Best Football Film to "LORO DI NAPOLI" directed by Pierfrancesco Li Donni, Best Picture to "AFRICA & SPORT PER L'ETIOPIA" by Roberto Bof and Marco Rampi, Best Screenplay again to an Italian film "A QUALCUNA PIACE IL CALCIO" directed by D'Orazi and Aliberti, Best Editing to "IL RUGGITO DEI LEONI" of Alessandro Renna and Daniele Ciardi, Best Soundmixing again to the Russian "SPIRIT IN MOTION", Best Leading Role to the multiple world champion and choreographer Maxim Kozhevnikov of the film "KING BALL DANCE", Best Direction to Eduard Bordukov, Best Foreing Film to "RINGS OF THE WORLD". The Movie Commission chaired by the magistrate Mario Conte has given the Critics' Prize "Gregorio Napoli" to the film "NOI SIAMO ERCOLINI" directed by Giacomo del Buono, acknowledgments to the Romanian film "LIFE IS SPORT LIFE IS LOVE" directed by Cosmoiu and Malciu, to the Swiss "THE LIVE OF MECCA" by Stefano Etter and to "QUARTO SAVONA 15 LA STRADA CONTINUA" directed by Gabriele D'Agostino. The Polish "AJDE " directed by Zuzanna Szyszak, a cartoon which tells the story of the champion of tennis Novak Djokovic, cleaned out the contest on Facebook with more than 1500 likes.
During the Gran Galà presented by Nadia La Malfa and Roberto Marco Oddo (Director of the Festival), Golden Paladins have been given to Italian Singer Team (the award has been given Sandro Giacobbe coach of the team), for "altro cinema" (films with other subjects) to PIETRO BARTOLO protagonist of the film "FUOCOAMMARE" directed by Gianfranco Rosi, golden paladin has gone to Salvatore Requirez for the book "CENTO VOLTI DI UN MITO", to VITTORIO VIRZÌ designer of more than ten years "SPORT MUSICA E MEDICINA", to sports managers of the year ANGELO PIZZUTO and SANTINO LO PRESTI, to the paralympic team POLISPORTIVA ALBA, to the broadcast channel "CTS" for its 40th anniversary.
Among the guests of honour there were the President of the Sicilian Assembly Giuseppe Lupo, the President of CONI Sicilia Sergio D'Antoni, Pino Mangano President of Libertas Sicilia, the comic actor Sergio Friscia, Ninni Vaccarella and Costanza Afan De Rivera heir of Vincenzo Florio.
37° SPORTFILMFESTIVAL – LOOK THE AWARDED TRAILERS