42th Paladino d'Oro SportFilmFestiva – 7 – 13 Novembre 2022 There are at least 17 different Golden Paladin for each edition:  Best Feature Film, Best Short Film (maximum 60′), Best Paralympic, Best Football, Best E-Sport, Best Other Cinema, Best Documentary, Best Fiction, Best Direction, Best Editing, Best Screenplay, Best Sound, Best Picture, Social Award and other Special Awards.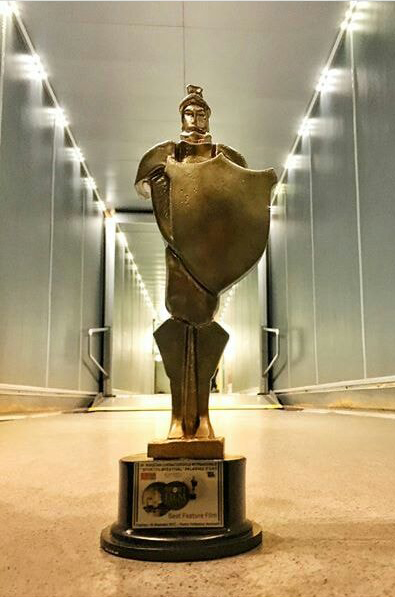 41° PALADINO D'ORO Sportfilmfestival 2021,
Grande successo per la serata di gala della 41esima  edizione, il premio cinematografico internazionale, diretta da Roberto Marco Oddo, che si è svolto al teatro Politeama. Nel corso della serata, presentata dalla giornalista Nadia La Malfa, sono stati consegnati i paladini d'oro, i riconoscimenti ai film in concorso provenienti da 30 nazioni.  Miglior lungometraggio è andato al film "On the Edge", di Mikhail Degtyar, miglior corto "Il Grande Slam – Generazione di Fenomeni" di Mario Maellaro.  Per la sezione "L'altro cinema" ha vinto il film " Il diritto alla felicità" regia di Claudio Rossi Massimi, il film "Outraged", di Peter Klomp, vince per la sezione "Football film", mentre per la sezione "Paralimpic Film" ha vinto il film "Astrid" di Marc Galver Lacruz, il film "Going for Gold" vince il paladino d'oro per la sezione "Olimpic Film" e per la sezione "E-Sport" il film "Good Control" di Xiquan Zhang. Il premio dedicato alla memoria dell'ideatore della rassegna Vito Maggio, è andato al film "Il Caso Pantani"per la regia di Domenico Ciolfi.
Cinque premi speciali sono andati al presidente della Figc, Gabriele Gravina, all'architetto Gino Zavanella e  agli attori, Lino Banfi, Alessio Vassallo e Lucia Sardo.  "Un'edizione per me speciale – spiega Oddo- non solo dal punto di vista emotivo, perché è stata dura non avere accanto a me il mio maestro Vito Maggio, ma anche della consacrazione internazionale perché abbiamo avuto film e registi proveniniti da trenta nazioni. Lo Sportfilmfestifal si conferma una vetrina internazionale per Palermo e un patrimonio culturale che va difeso e tutelato". Dal 1° dicembre saranno aperte le iscrizioni per la 42a edizione del Paladino d'oro Sport Film Festival.
Press release
Sportfilmfestival, "On the Edge" wins the best feature film, among the shorts triumphs "The Grand Slam". The Pantani case wins the "Vito Maggio" award in memory of the creator of the festival
Great success for the gala evening of the forty-first edition of the "Sportfilmfestival", the international film festival, directed by Roberto Marco Oddo, which took place yesterday in the Politeama theater.
During the evening, presented by the journalist Nadia La Malfa, the golden paladins were delivered, the awards to the films in competition from thirty national teams.  Five special prizes went to the president of the FIGC, Gabriele Gravina and the actors, Lino Banfi, Alessio Vassallo and Lucia Sardo.
For the section "The other cinema" the film "The right to happiness" wins the golden champion directed by Claudio Rossi Massimi, the film "Outraged", by Peter Klomp, wins for the "Football film" section, while for the "Paralimpic Film" section the award goes to the film "Astrid", by Marc Galver Lacruz. And again the film "Going for Gold" wins the golden champion for the "Olimpic Film" section, while the best short goes to the film "Grand Slam" by Mario Maellaro. And again the best feature film goes to the film "On the Edge", by Eduard Bordukov, while for the "E-Sport" section the golden champion is won by the film "Good Control" by Xiquan Zhang.
Established the award dedicated to the memory of the creator of the festival Vito Maggio, recently deceased, which went to the film "The Pantani case", directed by Domenico Ciolfi. "A special edition for me – explains Oddo – not only from an emotional point of view, because it was hard not to have my teacher Vito Maggio next to me, but also of international consecration because we had films and directors from thirty nations. Sportfilmfestifal is confirmed as an international showcase for Palermo and a cultural heritage that must be defended and protected".
TUTTI I VINCITORI DEL 41° PALADINO D'ORO SPORTFILMFESTIVAL:
BEST SOUND MIXING: O CUMPAGN' MIJ
BEST SCREENPLAY FLASH LA STORIA DI GIOVANNI PARISI Directed by Marco Rosson
PALADINO D'ORO DIRIGENTE SPORTIVO DELL'ANNO A GABRIELE GRAVINA
BEST EDITING SURVIVING BOKATOR BY MARK BOCHSLER
BEST PICTURE A CACCIA DI RELITTI  by Marcello Cosenza / Elena Lucia Marcon
PALADINO D'ORO ALLA CARRIERA A LINO BANFI
BEST LEADING ROULE LUCIANA DI LAURA THE SPARK OF MY EYES BY HUGO PALLETTE
BEST DIRECTION EDUARD BORDUKOV – ON THE EDGE
PALADINO D'ORO PER LA PROG. DI IMPIANTISTICA SPORTIVA ALL' ARCH. GINO ZAVANELLA
BEST FICTION THE WHITE SNOW by Nikolay Khomeriki
BEST DOCUMENTARY CHICO HERON AND THE LAST 42 BY ALBERTO SERRA
PALADINO D'ORO MIGLIOR ATTRICE ITALIANA LUCIA SARDO
PALADINO D'ORO PER L'ALTRO CINEMA IL DIRITTO ALLA FELICITA' BY CLAUDIO ROSSI MASSIMI
BEST FOOTBALL FILM OUTRAGED BY PETER KLOMP
PALADINO D'ORO MIGLIOR ATTORE ITALIANO DELL'ANNO ALESSIO VASSALLO
BEST PARALYMPIC FILM ASTRID
BEST OLYMPIC FILM GOING FOR GOLD Direct by Ksawery Szczepanik – Polonia
BEST SHORT FILM IL GRANDE SLAM – GENERAZIONE DI FENOMENI BY MARIO MAELLARO
BEST FEATURE FILM ON THE EDGE BY EDUARD BORDUKOV
SPECIAL PRIZE E-SPORT GOOD CONTROL BY XIQUAN ZHANG
SPECIAL PRIZE SOCIAL AWARD THE BLUEST SKY BY JONAS AUTIO
SPECIAL AWARD V. MAGGIO IL CASO PANTANI BY DOMENICO CIOLFI
SPECIAL PRIZE FOR NOMINATION:
A PIE DE CALLE
BORDO CAMPO by ALBERTO PUEYO
EMRE
GAZA, ONE FOOTBALL, ONE LEG
IL TORO DEL PALLONETTO  by LUIGI BARLETTA
INTO THE WORLD OF SSIREUM
OLD BOYS
RIDING ON THE STORM Directed by Morgan Bertacca
SYSTEMIC INJUSTICE BY Brad Gerard Gallant – CANADA
TUVA YOUNGSTER   Directed by Zhang Xiquan
WHY I'M NOT A BASKETBALL PLAY
contact: production@sportfilmfestival.it
______________________________________Palermo 15 – 21 November 2021
Gli appuntamenti della Settimana del Cinema Sportivo:
Lunedì 15 Novembre ore 11.00 – Presentazione e Conferenza Stampa Villa Niscemi, Sala delle Carrozze piazza Dei Quartieri 2, Palermo
Dal 16 al 19 Novembre dalle ore 10.00 alle ore 17.00 Mostra e Proiezione Film in Concorso
Dipartimento di Scienze Psicologiche, Pedagogiche, dell'Esercizio Fisico e della Formazione, via G. Pascoli 6, Palermo
Sabato 20 Novembre ore 10.00 Convegno "Sport Cinema e Medicina"Tavola Rotonda "Lo Sport Abbatte i Muri"
Dipartimento di Scienze Psicologiche, Pedagogiche, dell'Esercizio Fisico e della Formazione, via G. Pascoli 6, Palermo
Domenica 21 Novembre ore 21.00 Gran Galà del Paladino d'OroTeatro Politeama Garibaldi
______________________________________________________________________________________________
THEATER RESERVATION
MODULO DI RICHIESTA POSTI POLTRONE NUMERATE
GranGalà SPORTFILMFESTIVAL Palermo 21 Novembre ore 21.00 Teatro Politeama
Attenzione per esigenze televisive e di capienza limitata, l'elenco deve contenere solo nominativi di presenze certe da inviare a mezzo e-mail a: info@sportfilmfestival.it firmate per conferma.
Le prenotazioni saranno concesse fino ad esaurimento posti. Gli inviti per il Grangalà saranno disponibili per il ritiro lunedì 15 novembre 2021 presso Sala delle Carrozze – Villa Niscemi dalle ore 10.00 alle ore 13.00.  Per ulteriori informazioni – 391 1176872
Attention for television needs and limited capacity, the list must only contain names of certain presences to be sent by email to: info@sportfilmfestival.it signed for confirmation. Reservations will be granted subject to availability. The invitations for the Grangalà will be available for collection on Monday 15 November 2021 at the Sala delle Carrozze – Villa Niscemi from 10.00 to 13.00.
ATTENTION!!!!
Official press release for the productions participating in the 41st Paladino d'Oro Sportfilmfestival 2021:
The festival commission communicates the nominations of the films in competition.
Here are the films nominated or that received a special award:
| | |
| --- | --- |
| SPAGNA | Astrid |
| USA | Basilio the Musical |
| USA | Blink of an Eye: Triumph to Tragedy… |
| ITALIA | Bordo Campo |
| ARGENTINA | Buscando a Panzeri |
| PANAMA | Chico Heron and the Last 42 |
| GERMANIA | Deep Blue |
| TURCHIA | Duduk Whistle |
| TURCHIA | Emre The Story of Young Boxer |
| RUSSIA | Fair Play |
| ITALIA | Flash La storia di Giovanni Parisi |
| FRANCIA | Gaza, One Football, One Leg |
| POLONIA | Going for Gold – Po Złoto |
| CINA | Good Control |
| ITALIA | Growing Up |
| ITALIA | Il Caso Pantani (Fuori Concorso) |
| ITALIA | Il Grande Slam – generazione di Fenomeni |
| ITALIA | Il Toro del Pallonetto |
| ITALIA | Il Diritto alla Felicità |
| KOREA | into the World of Ssireum |
| SVEZIA | Jimmy The Wrestler |
| USA | La Nuova Dolce Vita in America: Adam Levine |
| ITALIA | Magnesio |
| USA | Monster Energy's Greatest Moments |
| SPAGNA | O Cumpagn' Mij |
| FRANCIA | Old Boys |
| RUSSIA | On The Edge |
| USA | Out of the Dark: Raven |
| SVIZZERA | Outraged – Football tackles discrimination |
| ITALIA | Riding on the Storm |
| ITALIA | Senza Vento |
| CANADA | Systemic Injustice |
| CANADA | Surviving Bokador |
| SVEZIA | The Bluest Sky |
| FRANCIA | The Dancing Stars |
| CANADA | The Holy Game |
| ITALIA | The last bell |
| ARGENTINA | The Lonely Navigator |
| USA | The Spark of My Eyes |
| RUSSIA | The White Snow |
| ISRAELE | Toshiki Death |
| CINA | Tuva Youngster – Yong Deng |
| RUSSIA | What Happens Tomorrow |
| ISRAELE | Why I'm Not a Basketball Player |
The productions that have obtained the nominations or a special mention, will receive by e-mail the indications of participation in the festival.
______________________________________________________________________________________
The Paladino d'oro Sport Film Festival (SFF) is organized by Toros Centro di Comunicazione Visiva (CCV) that nominated yearly a Movie Commission to select the best films focused on sports. The Festival is directed by Roberto Oddo.
The The Paladino d'oro Sport Film Festival wants to promote the values of sport (respect for rules, fair play, overcoming limits, team play, etc.) through the best films all over the world that are focused on sports. The "SFF promotes the diffusion of sport films that, in different ways, contribute to the development of artistic and cultural trends in the cinema business. The goal is to promote the best quality in sports films; to stimulate, thanks to the mass media and the partnership with schools and universities, the interest in sport and cinema, fostering didactic-cultural meetings.
The 41st Paladino d'oro SFF will be held in Palermo 15 – 21 November 2021. The festival program includes film screening, meetings with productions, conference and awards ceremony. The SFF ends with the awards ceremony (Grand Gala). During the Grand Gala the prize named "Golden Paladin" will be assigned to the best films in competition; the direction can be assign some special "Golden Paladins" to the most important figures of movie and sports.
All films produced between 2018 and 2021 with sport as main topic can participate to the SFF. Films that have already participated in the SFF are excluded. If within April 30th the registered productions are not in compliance with all the requests of the organization, they will be automatically excluded.