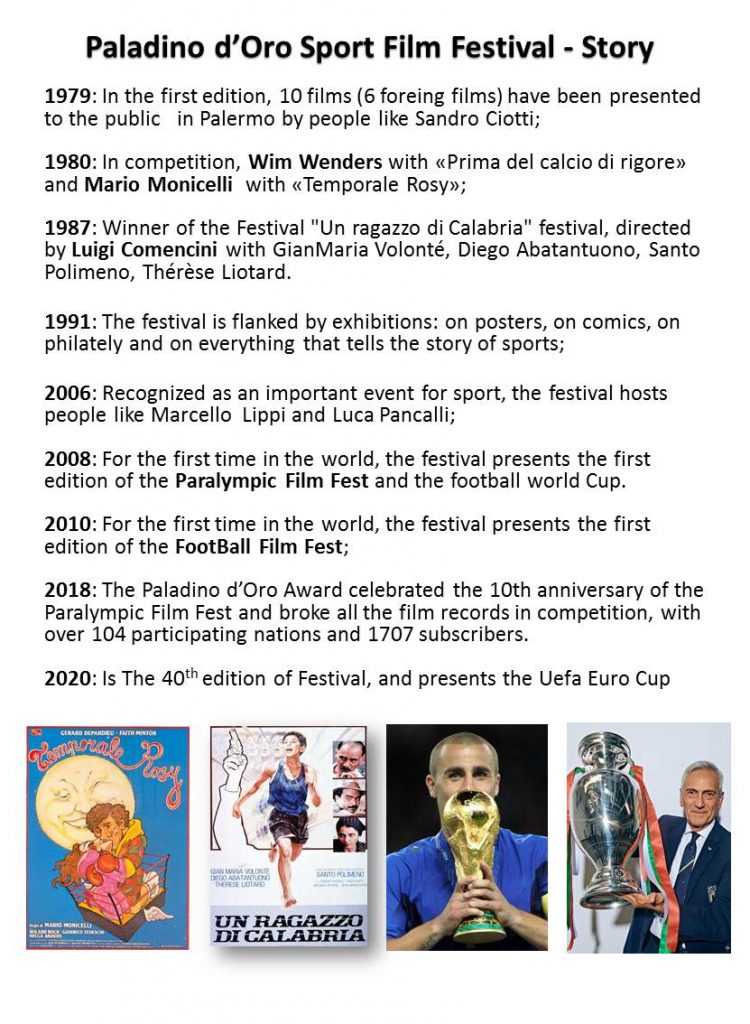 EDITION
GOLDEN PALADIN
1979 – ONLY FILM DISTRIBUTION: IO SONO IL PIU' GRANDE – TOM GRIES – USA
1980 – ONLY FILM DISTRIBUTION: I MASTINI DI DALLAS – TED KOTCHEFF – USA
1981 – THE JERICHO MILE – M. MANN – USA
1982 – KING OF THE MOUNTAIN – N. HOSSECK – USA
1983 – MILO BARUS, L'UOMO PIU' FORTE DEL MONDO – H. STEGMULLER – GERMANIA
1984 – L'EPOCA D'ORO DEL CALCIO – P. SANDOR – UNGHERIA
1985 – IL LOTTATORE – Z. OKTEN – TURCHIA
1986 – NESCKA ROBEVA – G. DIULGHEROV – BULGARIA
1987 – UN RAGAZZO DI CALABRIA – LUIGI COMENCINI – ITALIA
1988 – EVVIVA IL CALCIO GEORGIANO – A. GHIGENTI – USSR
1989 – FINALE – L. NILSSEN – NORVEGIA
1990 – THE MAGICIANS OF SPORT – P. TUCKETT – USA
1991 – TENERIFE SUPERBIKE – R. VERDINA – SVIZZERA
1992 – LE CHEMINS DES AIGLES – F. DUMONT – BELGIO
1993 – LA LEGGENDA DEL GRANDE TORINO – F. VOLITUTTI – ITALIA
1994 – A QUOI REVENT LES BOXERS? – F. LAFFONT – FRANCIA
1995 – TRANSCONTINENTAL GROELAND – CANADA – R. VERDINA – SVIZZERA
1996 – DER SPRINTER – M. BUSCH & C. THAU – GERMANIA
1997 – ONCE T – M. HAJAT – LIBANO
1998 – GORODKY – POPULAR GAME – S. LOUHFANTCHFKOV – BIELORUSSIA
1999 – LIBERATO – K. J. COTTAM – CANADA
2000 – STOLEN GOLD – E. THOMSON – U.K.
2001 –  BELLA & REAL – B. PERATT – SVEZIA
2002 – THE DIVER – P. LEHTINEN – FINLANDIA
2003 – ONLY FILM DISTRIBUTION: BEST – M. McGUCKIAN – INGHILTERRA
2004 – ONLY FILM DISTRIBUTION: ADRENALINA BLU – L. P. CAUVELAIRE – FRANCIA
2005 – ONLY FILM DISTRIBUTION: CINDERELLA MAN -RON HOWARD – USA
GOAL -D. CANNON -U.S.A
2006 – BEST SHORT: THE CRAWL – P.V. LEHTINEN – FINLANDIA
              BEST FEATURE: SPECIALE TORINO 2006 – F.CIAFALONI – ITALIA
2007 – BEST SHORT: IL PREZZO DELL'ORO – F.Ciafaloni – ITALIA
BEST FEATURE: IN SEARCH OF A LEGEND – K. Kulik – POLONIA
BEST PARALYMPIC: TORI SEDUTI – Cavallari/Scapin – ITALIA
2008 – BEST SHORT: PALESTINA – F.Ciafalini / C. Paris – ITALIA
BEST FEATURE: THE BEATIFUL GAME – A. Knektel – GERMANIA
BEST PARALYMPIC: UNA STORIA SPECIALE – Zaccaron / Codarin – ITALIA
2009 – BEST SHORT: BASKET BRONX – M.Rosete – SPAGNA
BEST FEATURE: WHY DO JAMAICAN RUN SO FAST – M.Galofrè – SPAGNA
BEST PARALYMPIC: OGGI NULLA E' IMPOSSIBILE – Cip Italia/Inail – ITALIA
2010 – BEST SHORT: ACROSS – J.Gruberdi – AUSTRIA
BEST FEATURE: Mount st.Elias – AUSTRIA
BEST PARALYMPIC: ONE GOAL – S. Augustì – SPAGNA

201/12 -BEST SHORT: LOS INTANGIBLES – A. Puevo – SPAGNA
BEST FEATURE: THE SOUND OF MY FOOT – M. Khoshbakht – IRAN
BEST PARALYMPIC: CON LE RUOTE PER TERRA – ITALIA
2013 -BEST SHORT: PUROSANGUE – V. Favale – ITALIA
BEST FEATURE: Flip a Coin – M. Kempen / H. Van Den Doel – OLANDA
BEST PARALYMPIC: DI CORSA – A. Utensi – ITALIA
2014 -BEST SHORT: The winner is – B. Rouvere – FRANCIA
BEST FEATURE: Segretariat's Jockey… – P. Comeau – CANADA
BEST PARALYMPIC: Dissabled – N. Catania – ITALIA
2015 -BEST SHORT: I RUN – A.MICELI / F.MALLORU – INGHILTERRA
BEST FEATURE: UNA MERAVIGLIOSA STAGIONE FALLIMENTARE – M.BUCCI – ITALIA
BEST PARALYMPIC: SPRINT TO THE PAST – S.FEDOR – RUSSIA
BEST FOOTBALL:  TOURNOI DES ENFANTES – A FORAGGIO – ITALIA
2016 -BEST SHORT: OLTRE LA LINEA – P.GEREMEI – ITALIA
BEST FEATURE: THE BOX – M. DEGTYAR – RUSSIA
BEST PARALYMPIC:SPIRIT IN MOTION – S.MIROSHINICHENKO – RUSSIA
BEST FOOTBALL: LORO DI NAPOLI – P.F. LI DONNI ITALIA
2017 -BEST SHORT: Outcast – Y. SYSOEV – RUSSIA
BEST FEATURE: La Fuerza del Balón – A.SERRA – PANAMA
BEST PARALYMPIC: Il Rumore della Vittoria – GALBUSERA/GUZZARDI – ITALIA
BEST FOOTBALL: L'ultimo viaggio del Conte Rosso – F. ANTONIOLI – ITALIA
2018 -BEST SHORT: TNT Boxestory – AUSTRIA
BEST FEATURE: SAMBA' di L.A. Guzman e I.Càrdenas – SPAGNA
BEST PARALYMPIC: Los Hombres de verdad no Llorian"- Luca Castan – SPAGNA
BEST FOOTBALL: Kuyt  – Deborah van Dame. – OLANDA
40a PALADINO D'ORO SPORTFILMFESTIVAL
BEST SHORT: 8 (USA)
BEST FEATURE: BUTTERFLY (ITALIA)
BEST PARALYMPIC: 10Km/h (CANADA)
BEST FOOTBALL: THE MAKING OF: JOSE'MOURINHO (INGHILTERRA)
BEST E-SPORT: TO WIN IT ALL (USA)
41a PALADINO D'ORO SPORTFILMFESTIVAL
BEST FEATURE: ON THE EDGE (RUSSIA)
BEST SHORT: IL GRANDE SLAM GENERAZIONE DI FENOMENI (ITALIA)
BEST OLYMPIC: GOING FOR GOLD (POLONIA)
BEST PARALYMPIC:  ASTRID (SPAGNA)
BEST FOOTBALL: OUTRAGED (SVIZZERA)
BEST OTHER CINEMA: IL DIRITTO ALLA FELICITA' (ITALIA)
SPECIAL PRIZE E-SPORT: GOOD CONTROL (CINA)
SPECIAL PRIZE "VITO MAGGIO": IL CASO PANTANI (ITALIA)
41° PALADINO D'ORO Sportfilmfestival, "On the Edge" vince il miglior lungometraggio, tra i corti trionfa "Il grande Slam". Il Caso Pantani si aggiudica il premio "Vito Maggio" istituito in memoria dell'ideatore del festival . Grande successo per la serata di gala della quarantunesima edizione dello  "Sportfilmfestival", la rassegna cinematografica internazionale, diretta da Roberto Marco Oddo, che si è svolta ieri nel teatro Politeama. Nel corso della serata, presentata dalla giornalista Nadia La Malfa, sono stati consegnati i paladini d'oro, i riconoscimenti ai film in concorso provenienti da trenta nazionali.  Cinque premi speciali sono andati al presidente della Figc, Gabriele Gravina, all'architetto Gino Zavanella e  agli attori, Lino Banfi, Alessio Vassallo e Lucia Sardo.
Per la sezione "L'altro cinema" il film " Il diritto alla felicità" si  aggiudica il paladino d'oro per  regia di Claudio Rossi Massimi, il film "Outraged", di Peter Klomp, vince per la sezione "Football film", mentre per la sezione "Paralimpic Film" il premio va al film "Astrid", di Marc Galver Lacruz. E ancora il film "Going for Gold" vince il paladino d'oro per la sezione "Olimpic Film" , mentre il miglior corto va al film "Il Grande Slam" di Mario Maellaro. E ancora  il miglior lungometraggio va al film On The Edge di Eduard Burdakov, mentre per la sezione "E-Sport" si aggiudica il paladino d'oro il film di produzione cinese "Good Control" di Xiquan Zhang. Istituito il premio dedicato alla memoria dell'ideatore della rassegna Vito Maggio, recentemente scomparso, che è andato al film "Il caso Pantani", per la regia di Domenico Ciolfi. "Un'edizione per me speciale – spiega Oddo- non solo dal punto di vista emotivo, perché è stata dura non avere accanto a me il mio maestro Vito Maggio, ma anche della consacrazione internazionale perché abbiamo avuto film e registi proveniniti da trenta nazioni. Lo Sportfilmfestival si conferma una vetrina internazionale per Palermo e un patrimonio culturale che va difeso e tutelato". Dal 1° dicembre saranno aperte le iscrizioni per la 42a edizione del Paladino d'oro Sport Film Festival.
Press release
Sportfilmfestival, "On the Edge" wins the best feature film, among the shorts triumphs "The Grand Slam". The Pantani case wins the "Vito Maggio" award in memory of the creator of the festival
Great success for the gala evening of the forty-first edition of the "Sportfilmfestival", the international film festival, directed by Roberto Marco Oddo, which took place yesterday in the Politeama theater.
During the evening, presented by the journalist Nadia La Malfa, the golden paladins were delivered, the awards to the films in competition from thirty national teams.  Five special prizes went to the president of the FIGC, Gabriele Gravina and the actors, Lino Banfi, Alessio Vassallo and Lucia Sardo.
For the section "The other cinema" the film "The right to happiness" wins the golden champion directed by Claudio Rossi Massimi, the film "Outraged", by Peter Klomp, wins for the "Football film" section, while for the "Paralimpic Film" section the award goes to the film "Astrid", by Marc Galver Lacruz. And again the film "Going for Gold" wins the golden champion for the "Olimpic Film" section, while the best short goes to the film "Grand Slam" by Mario Maellaro. And again the best feature film goes to the film "On the Edge", by Mikhail Degtyar while for the "E-Sport" section the golden champion is won by the film "Good Control" by Xiquan Zhang.
Established the award dedicated to the memory of the creator of the festival Vito Maggio, recently deceased, which went to the film "The Pantani case", directed by Domenico Ciolfi. "A special edition for me – explains Oddo – not only from an emotional point of view, because it was hard not to have my teacher Vito Maggio next to me, but also of international consecration because we had films and directors from thirty nations. Sportfilmfestifal is confirmed as an international showcase for Palermo and a cultural heritage that must be defended and protected".
TUTTI I VINCITORI DEL 41° PALADINO D'ORO SPORTFILMFESTIVAL:
BEST SOUND MIXING: O CUMPAGN' MIJ
BEST SCREENPLAY FLASH LA STORIA DI GIOVANNI PARISI
PALADINO D'ORO DIRIGENTE SPORTIVO DELL'ANNO A GABRIELE GRAVINA C
BEST EDITING SURVIVING BOKATOR BY MARK BOCHSLER
BEST PICTURE A CACCIA DI RELITTI
PALADINO D'ORO ALLA CARRIERA A LINO BANFI
BEST LEADING ROULE LUCIANA DI LAURA THE SPARK OF MY EYES BY HUGO PALLETTE
BEST DIRECTION EDUARD BORDUKOV – ON THE EDGE
PALADINO D'ORO PER LA PROG. DI IMPIANT. SPORTIVA ALL' ARCH. GINO ZAVANELLA
BEST FICTION THE WHITE SNOW
BEST DOCUMENTARY CHICO HERON AND THE LAST 42 BY ALBERTO SERRA
PALADINO D'ORO MIGLIOR ATTRICE ITALIANA LUCIA SARDO
PALADINO D'ORO PER L'ALTRO CINEMA IL DIRITTO ALLA FELICITA' BY CLAUDIO ROSSI MASSIMI
BEST FOOTBALL FILM OUTRAGED BY PETER KLOMP
PALADINO D'ORO MIGLIOR ATTORE ITALIANO DELL'ANNO ALESSIO VASSALLO
BEST PARALYMPIC FILM ASTRID
BEST OLYMPIC FILM GOING FOR GOLD
BEST SHORT FILM IL GRANDE SLAM – GENERAZIONE DI FENOMENI BY MARIO MAELLARO
BEST FEATURE FILM ON THE EDGE BY EDUARD BORDUKOV
SPECIAL PRIZE E-SPORT GOOD CONTROL BY XIQUAN ZHANG
SPECIAL PRIZE SOCIAL AWARD THE BLUEST SKY BY JONAS AUTIO
SPECIAL AWARD V. MAGGIO IL CASO PANTANI BY DOMENICO CIOLFI
SPECIAL PRIZE FOR NOMINATION:
A PIE DE CALLE
BORDO CAMPO
EMRE
GAZA, ONE FOOTBALL, ONE LEG
IL TORO DEL PALLONETTO
INTO THE WORLD OF SSIREUM
OLD BOYS
RIDING ON THE STORM
SYSTEMIC INJUSTICE
TUVA YOUNGSTER
WHY I'M NOT A BASKETBALL PLAY
____________________________________________________________________________
40° Sportfilmfestival, il favorito "The Making Of" con Mourinho vince il Paladino d'oro come miglior "Football Film" Roberto Oddo direttore della Rassegna: "Abbiamo battuto il record di presenze internazionale"
Grande successo per la quarantesima edizione dello SportFilmFestival, la rassegna cinematografica più antica del mondo che si è conclusa ieri, con la serata di gala presentata dalla giornalista Nadia La Malfa e da Roberto Marco Oddo, nella suggestiva cornice del teatro Politeama di Palermo, in cui sono stati assegnati i Paladini d'oro nelle varie sezioni e categorie. Il premio alla carriera è andato all'attore Enzo Decaro. Anche quest'anno si sono registrati numeri da record: 495 film in lizza, in rappresentanza di 54 nazioni partecipanti, con 290 lungometraggi, 120 cortometraggi, 40 film dedicati al mondo paraolimpico e 105 football film e 329 film stranieri. Tanti i riconoscimenti consegnati nel corso della serata. Il Paladino d'Oro per la sezione "L'altro Cinema" è stato assegnato al film dedicato al megistrato Livatino " Il Giovane Giudice" di Angelo Maria Sferrazza, quello per l'editoria è andato a Elio Francesco Falcone per il libro "Un Secolo di Sport in Sicilia" . Il Paladino alla Medicina invece è stato assegnato dalla FMSI alla dottoressa Antonella Marino Gammazza, che si occupa di ricerca nel campo dell'Alzheimer.
Lo Sportfilmfestival quest'anno si è gemellato con la nona edizione di "Marefestival Premio Troisi," ideato da Massimiliano Cavaleri, in programma dal 9 al 12 luglio prossimo a Salina, e proprio ieri è stato dedicato un ricordo speciale al film "Il Postino", con l'esecuzione della colonna sonora premio Oscar di Bacalov, eseguita dalla corale settima polifonia. Il pubblico presente ha avuto modo anche di assaporare la magia del film il Gattopardo grazie alla rievocazione di abiti ottocenteschi del gruppo di danza "Bella Epoque".
Soddisfatto il direttore della rassegna Roberto Oddo: "Siamo orgogliosi e felici perché per questa edizione abbiamo riscosso un successo che è andato ogni oltre rosea aspettativa, centrando il record di presenze internazionali. Da domani saremo già a lavoro per la prossima edizione, che avrà un respiro sempre più internazionale".
Di seguito l'elenco dei film vincitori nelle varie sezioni e categorie:
Best sound mixing a "Mission 8″(Germania)
Best Editing a "L'ingegnere dei record" ( Italia)
Best Picture a "The Botton Turn" (Inghilterra)
Best Screenplay ad "Aimone's Dreams"(Italia)
Best Direction a "Dirty Game" (Germania)
Best Football Film a "The Making Of": José Mourinho (Inghilterra)
Best Foreign Film a "Reflecting Ice" (Finlandia)
Best Short film a "8" (Usa)
Best Future Film a "Butterfly" (Italia)
Best Paralympic Film a "10km/h" (Canada)
Best Documentary Film a "She Is Ocean" (Russia)
Best Fiction Film a "The Buzz" (Ungheria)
Best E-Sport a "To Win it all" (Usa)
Il social award è andato invece al film "Take your Mark Banu"(India). Il Paladino d'oro per il Leading Role è andato a Gianclaudio Marengo "Vanished at the Finish" (Usa) mentre ad aggiudicarsi lo School Award è stato il film "Road to the Final" (Inghilterra).
40° SPORTFILMFESTIVAL "SPECIAL PRIZE"
NOS ACRESCIMOS – BRASILE
BLU SCALLYWAGS – POLONIA
BEST FOOT FORWARD – INGHILTERRA
DOLPHIN'S HEARTH – ITALIA
THE WORKER – ITALIA
THE ITALIAN SPIRIT OF LE MANS – ITALIA
EUSEBIO – STORY OF A LEGEND – FRANCIA
UEFA CHAMPIONS LEAGUE FINAL – INGHILTERRA
HARDBALL – USA
PLAYGROUND ADDICTION – ITALIA
WRESTLOVE – ITALIA
A BEAUTIFULL GAME FOR GIRLS – ITALIA
SPORT DE FILLES – FRANCIA
VOY – RUSSIA
THE SPIRIT OF THE GAME – LUSSEMBURGO
I numeri dello SFF:
13 NAZIONI PREMIATE
16 PALADINI (3 USA – 3 INGHILTERRA – 3 ITALIA – 2 GERMANIA, 1 FINLANDIA, INDIA, CANADA, RUSSIA, UNGHERIA.
____________________________________________________________________________
39a Rassegna Cinematografica Internazionale Sport Film Festival:
Il Paladino d'oro per il miglior lungometraggio è andato alla produzione della Repubblica Dominicana e distribuito dalla 102 Distribution "SAMBA' di L.A. Guzman e I.Càrdenas, Il film austriaco "TNT Boxestory" è stato l'unico ad aggiudicarsi due statuette, quella per il miglior cortometraggio e per la miglior regia, nelle sezioni miglior paralympic e football film hanno vintolo spagnolo "Los Hombres de verdad no Llorian" del regista Luca Castan e l'olandese "Kuyt" di Deborah van Dame. Le altre statuette sono andate per il miglior sound mixing al film THE LEGEND di Luca Arseni, Italia, miglior sceneggiatura FALLO SUBITO di Mario Sposito, Italia, per il miglior montaggio: THE EDGE di Kamil Buklaha, Polonia, miglior fotografia, BREAK THE FALL di Peter Dickson, Australia,ilpaladino per la miglior attrice protagonista Lana Valdy (La Lepre), miglior film straniero: RUNNER di Mike Mc Dougall, Sud Africa,la statuetta per il miglior documentario è anata ad ATLAS, GUERREROS DEL DESTINO di Max Ambrosio, Argentina, miglior fiction: DIFFERENT BAYERN di Matthias Kosmehl, Germania, Italia, al film " ono Cesare ma chiamatemi Mimmo" è andato il Social Award (premio assegnato dal pubblico, attraverso una votazione on line). Premi speciali sono andati anche ai film: Get Big, Valor, In Our Contry, Inseguendo i sogni e Blindfold.