PRESS RELEASE
---
WHO WE ARE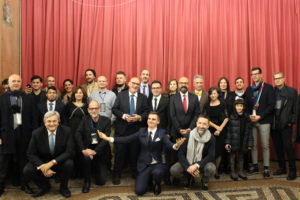 An almost 40-year history, that of the world's oldest sports film festival, the Sport Film Festival.
Sports pages have been written by great film productions from all over the world, suggestive emotions have been transmitted by hundreds of sports champions, who have been awarded the Paladino d'Oro, have enriched the festival's palmares, now they start again with the organizational machine that also for this year it foresees the participation of great productions and great protagonists of sport and sports journalism.
The Organizing Committee of the International Film Festival "SPORTFILMFESTIVAL", directed by Roberto Marco Oddo, selects at each edition works that have as main subject the sport in its various expressions and in all its manifestations.
---
CONTACT US